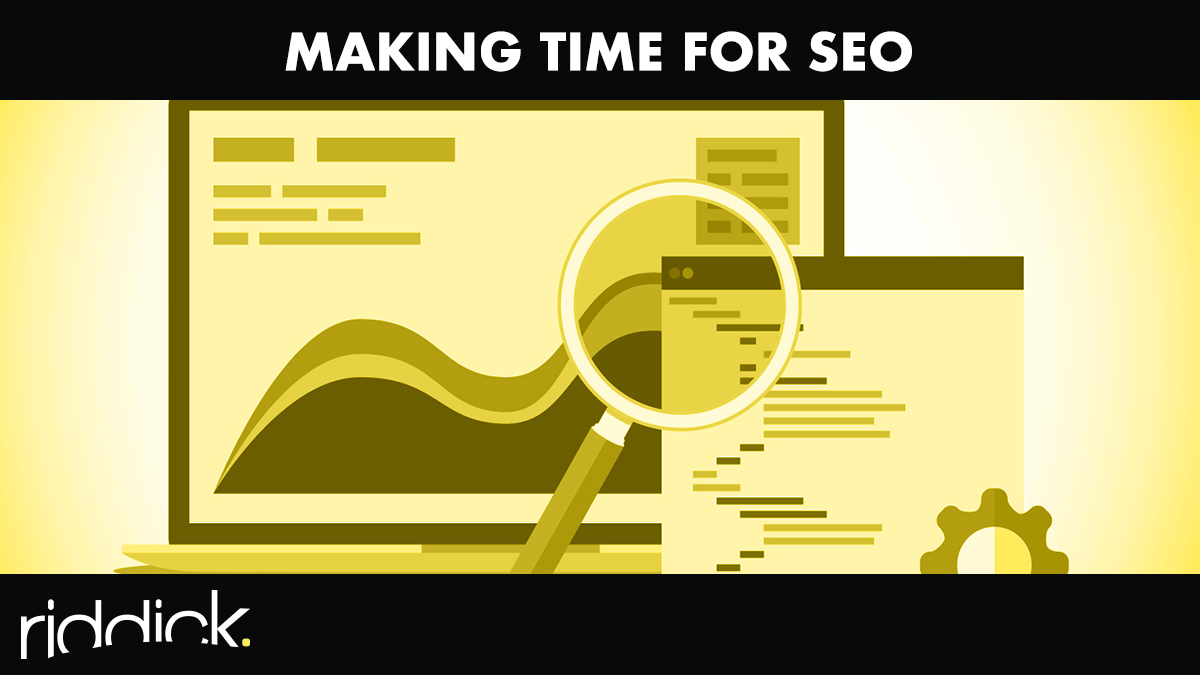 Making Time for SEO Part 1
This is a continuation from the Facebook post from Monday, October 15, 2018. We are going to jump right in and continue on the topic of making time for SEO.
Why Saturdays
We talked last week about how Saturdays are for SEO. I will tell you why I said that.
When I talk to small business owners, there is some misunderstanding and unknown around SEO. Week in and week out, we are inundated with email, text, and serving our customers that it is tough to fit in a task that you are not sure that will produce the results you need. Thank God for weekends because Saturday slows down the pace of the workweek. While I wouldn't suggest piling Saturday full of work you can't get done during the week, I do suggest you pause Netflix or Hulu and give an hour or two to move the needle in your business. At the end of this SEO series, I hope to take the veil off of SEO and make you feel comfortable making this time investment to move the needle and reach your business goals.
Where Do I Start?
Like many business tasks, you have to evaluate whether this is a task you farm out or handle internally. I believe and stand behind this statement – an adequately built website around a content marketing strategy will make SEO an easy task for a content creation team member in the organization. So it is essential to ask your web developer to build your website with SEO in mind.
Here are a few helpful signs that you have a well-developed website for SEO:
Your Site Is Built on WordPress – The software that drives a good portion of the internet (a little over 30% of the web) is an open-source CMS (content management system) designed to be inherently SEO friendly. The canonical linking structure is a dream for search engines, and the publishing nature of this system makes for easy content creation. If you are not using WordPress and you are using another CMS, that is ok. You will have to identify a CMS designed to create content and make it discoverable on the web. Many people decide to use low-cost web builders to build their websites themselves. I don't mean that negatively because I understand that you have to make your business investments that make sense at that time. When you build a website, you are making a time and financial investment into your business or lack thereof, and it most likely will cost later down the line if you don't build on something extendable and future platform proof.
Yoast SEO WordPress Plugin is Installed on Your Website – In my eyes, you don't want to begin starting the process of optimizing a website without this plugin. It is so beautifully designed and has great tools for creating great content with high readability, and is the cornerstone of implementing SEO on any WordPress website.
You Are Using A Well Coded Theme Framework – Choosing a framework is a topic that can splinter in so many directions, but essentially if you are using WordPress, you are using a theme or have had a custom theme built. Most times than none, at Riddick Agency, if we have a client that asks us to create a custom site, we generally use the Genesis Framework. This framework is well-coded for search engine optimization, security and runs light to provide great performance. There are many other frameworks out there that we use, but you want to make sure you choose one that gives you the building blocks to create a great site graded for performance.
It would help if you had a remnant of a content strategy to achieve having a website optimized for search.
I Have A Website Built on WordPress, What's Next?
This is always the fun follow up question for me to answer because most people grossly miss this mandatory component to having good SEO. Again, having a resemblance of a content strategy is crucial to achieving having a website optimized for search.
There is no way to optimize your website without a content marketing strategy. It is kind of like aiming at a target in the dark; you will miss more times than you would hit it. The type of questions that a content marketing strategy would solve is like the following:
What problems do you want your content to solve for your audience?

How would you group that content, how would you categorize it?

How would you like people to find this content?
Answering questions like these will get you on track to develop a complete content marketing strategy that can adequately make your content discoverable on your website.
To learn how to develop a complete content marketing strategy, we recommend getting the free ebook from Content Marketing Institute named "The Essentials of a Documented Content Marketing Strategy: 36 Questions to Answer."
That's it for this week! Next week we'll dive into some fundamentals for search engine optimization and give a brief overview of what it looks like on an expert level.
Have questions? Send me an email or contact me in our chat bubble on our website.