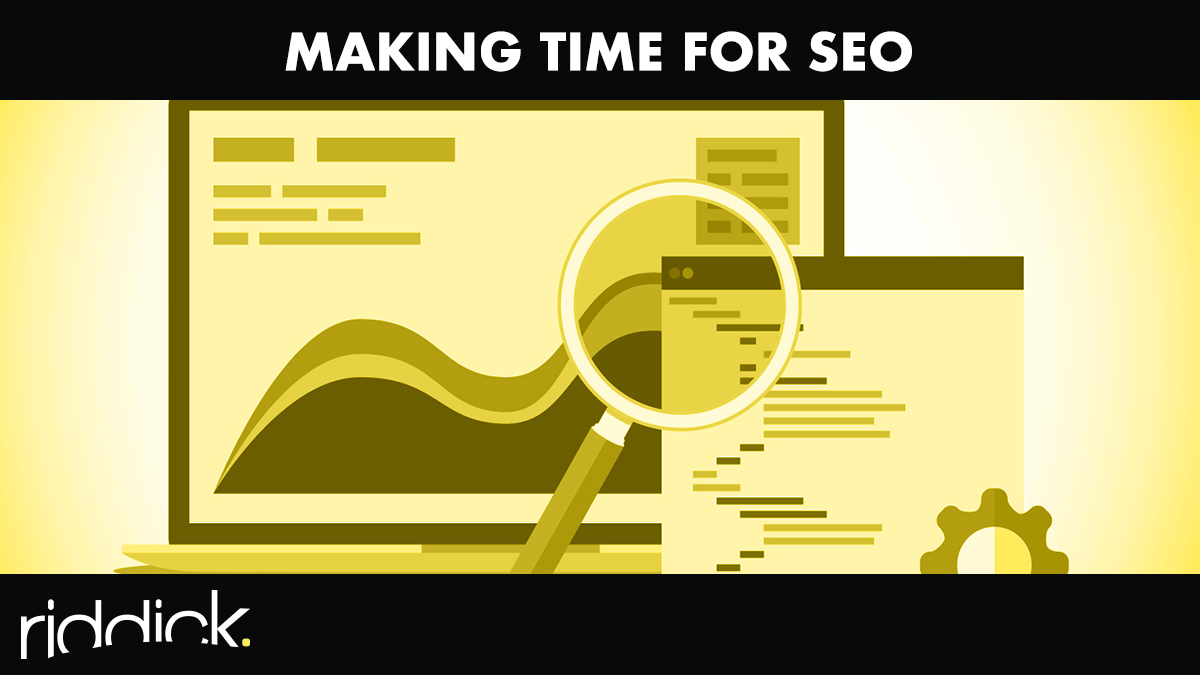 Making Time for SEO Part 2
Welcome to Part 2 of Making Time For SEO (Search Engine Optimization). Our goal after this series is that you walk away with a tangible understanding of SEO and how you activate it in your business.
In Part 1 we talked about the importance of a content marketing strategy, having a properly structured and well-designed website. If you had to pick one thing, out of everything we talked about in Part 1, you want to focus on having a content marketing strategy. In this post, we are going to give you some fundamental ways to use your content strategy to optimize your website for Google (and Bing).
Ok, let's get started with Part 2.
Content Marketing Strategy
In order to actively optimize your content, there needs to be a business strategy behind the content you create and publish. As a marketer, you have to identify the needs of your audience and answer their burning questions in your content. Your strategy should be audience focused, but should also align with your business strategy. If you are trying to sell more cupcakes as a bakery, you want to create some salivating content around cupcakes. Recipes, Tips, and new flavor announcements are just a few ways to drive interest your cupcakes.
Once your content strategy is in place, now you have some tactical things you can do to implement SEO on your website. We have seven disciplines to focus on as you implement your SEO efforts, here they are:
#1 Keywords
Widely when it comes to SEO, using keywords in website content is a commonly understood practice. Keywords are still important when it comes to SEO, however, some marketers were packing keywords in their content like they were packing for a 14-day trip. You would find keywords stuffed in content without any actual relevance, leaving writing difficult to understand and not useful.
When using keywords look at them as breadcrumbs that give your audience clues to the answer you are providing them. Keywords should be used as contextual phrases to give search engines a better understanding of your content and its purpose. This a great lead into the next point.
#2 Semantic Search (Human) Language
Google changes their algorithm often and in 2013, they made a major change to better understand search intent, particularly with complex and conversational searches. In a nutshell, Google is trying to provide better results by understanding why someone is asking questions. Ironically enough, we should be asking ourselves this question when we create content. For example on the topic of SEO, a marketer searching about SEO is probably trying to grow their content engagement and grow their audience and business. Because of Google getting smarter in this regard, it's important to make content intentionally authentic and clear. This helps marketers not have to worry so much about ranking, packing keywords, and moving into the Blackhat SEO arena. We can now just create great content for our audience.
#3 Title Tags
Title tags simply are the way each page title show's up in in the browser and in a search engine. For example here is the title tag for our post from Part 1

The title tag has to have the keywords and content that you identities with what your audience is searching for. Remember, your reason for creating content is to be the answer to whatever your audience needs. Title Tags shouldn't be too cute (clever is ok) and they should be in the language of your target persona. By the way, the meta page description is so important.
#4 Quality Backlinks
A backlink is a hyperlink that points back to content on your website. Since a lot of the content that you will publish as a marketer on your site will be related, Google loves when you guide your audience to other related content on your site. This gives your domain authority and takes your audience to other articles you have written. This establishes a brand authority and engages your audience in your well of new and old content.
#5 Organize, for them, not you
This is not easy. This comes with a deep understanding of your audience. When you have a really good audience persona profile that drives your content strategy, you have to commit to organizing your content for them. Putting content in topical categories that is recognizable by your audience is important. These categories can evolve over time and can change with your audience behavior. This will be driven by your content marketing strategy and how you want to be discovered via search. For instance. Riddick Agency is a marketing consulting and design firm. We want to be recognized for Content Marketing, so this is one of our categories in which we will focus on creating rich content.
You should use Post Tags to organize your content which you can use in WordPress. These help drill your content down even more. Post Tags help give the search engines that additional context to your content, but also gives your audience an additional opportunity to find what they need. You tend to see tag clouds on blogs to for easy discoverability but it also gives a cool visual to popular topics on the website.
#6 Thoroughly Cover Topics
In this age of limited attention span, the prevailing thought is that people don't want to consume long-form content. You hear:
People don't want to read.
Keep it short.
People want video, not written content.
First of all, who are these people? LOL. Most of all, what do your people want. That should be the only prevailing question. As a marketer/publisher, you have to create what your audience wants. If you find that your audience prefers bite-size content, you have to deliver that to them. One way to do this is to create your content with one complete thought, but break it up into pieces, similar to this article. You can do a series or break up a topic with subtopic. The key is to go wide with your content give your audience a full buffet and let them pile their plate with what fits them.
#7 Love Local
Depending on your business, promoting yourself locally can have huge benefits. If you have a brick and mortar office this is really great because it opens your discoverability on mobile devices, where most of all Google searches take place. Over 51% of smartphone users have discovered a new company or product while conducting a search on their smartphone. (Google, 2018) (Source: https://www.hubspot.com/marketing-statistics)
One of the ways to optimize your website for local is to mention your city in your Title tags on your homepage. Here is an example of our website and how we appear in search:
While we serve clients across the U.S., however, Jacksonville is where our home office is and we want to establish new clientele here. So this is very strategic in our efforts to grow locally.
For brick and mortar locations, 72% of consumers who did a local search visited a store within five miles. (Wordstream, 2016) (Source: https://www.hubspot.com/marketing-statistics). By having your address on your website and having up-to-date on your Google My Business page, your chances for discovered and hugely increased. I use Google Maps and Apple Maps all of the time to discover local businesses and there are millions of other consumers just like me.
We will be wrapping this series in Part 3 and we are going to jump into the right tools to do research, evaluate and grade, and properly optimize your content on the web.